2019, Monday, June 27 at 6:30 p.m.
Art As I Knew It
Lecture by Teresio Ottavio Camenzio
@ Washington Square Park, second chess table from the right
About What We Had That We Don't Anymore
2019, Sunday, June 23 4:00 to 5:00 PM @ Esso Podcast
SUNDAY TALK
Time: About What Seemed Eternal and Is Not Anymore
Potassio Pliffi in conversation with Universally Famous Anonymous Art Thief Monsieur X aka Segnor Ecs aka Mister Cross aka Miroslav Crochovitc aka Don Croce aka and alias with many other names
Jennifer Bacon and Vittoria Chierici
2018, Sunday, December 9 - 4:00 PM 5:00 PM
ARTIST TALK
Vittoria Chierici in conversation with Jennifer Bacon and Hanne Tierney
@ Five Myles, 558 St. Johns Place, New York, tel. +1 718 7834438
Codice Ovvio
Einaudi / Corraini
2018 Saturday 4 November from 13.30 - 14.30
Presentation of the reprint of Bruno Munari's Codice Ovvio (Obvious Code), 1971, republished by Corraini, Mantua at Artissima, Meeting Point, Torino with Gianpiero Cavaglià, Marzia Corraini, Filippo Fossati, et alt. Published for the first time by Einaudi in 1971 with a preface by Paolo Fossati, Codice ovvio (Obvious code) is the volume through which Bruno Munari put together the various pieces of his multifaceted production as an artist, graphic designer, writer and designer. The critical text written by Paolo Fossati – scholar and art critic, teacher and one of Einaudi's leader – is the fundamental text that provides the reader with the essential gateway, and that brings us closer to the obvious code. This is a book that, as Fossati points out, is not a catalog of what the artist had created, but rather a strong poetic statement of it, a trace of what he had been done so far, a note that could tell without explaining what it was art for him, and his way of experiencing it.
The Philosophers' Clothes
2018, OCTOBER 27 - DECEMBER 29
VITTORIA CHIERICI
The Philosophers' Clothes
Curated by Jennifer Bacon
@ Five Myles, 558 St. Johns Place, New York, tel. +1 718 7834438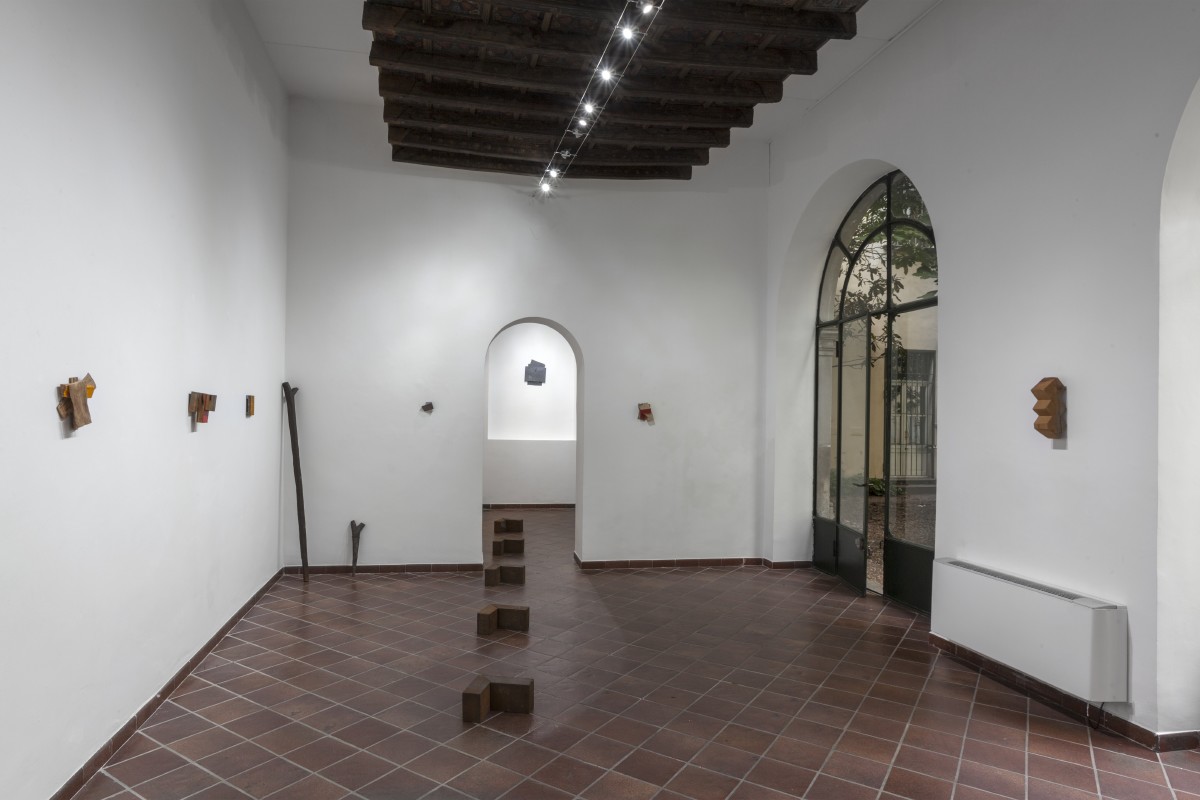 2018, April 26 – June 12
Richard Nonas
Out Away Back
curated by Filippo Fossati
@ NEOCHROME
Palazzo Scaglia di Verrua, Via Stampatori 4 - 10122 Torino, Italy
2018, February 8 – March 11
Vittoria Chierici
I vestiti dei filosofi / The Philosophers' Clothes
curated by Filippo Fossati
@ NEOCHROME
Palazzo Scaglia di Verrua, Via Stampatori 4 - 10122 Torino, Italy
2017, November 4
Maurizio Pellegrin
It's a Jungle Out There
Projection of Maurizio Pellegrin's videos from Piazza Vittorio onto the River Po
curated by Giulio Fossati
2017, September 29 – October 29
Maurizio Pellegrin
The Stoker
curated by Filippo Fossati
@ NEOCHROME
Palazzo Scaglia di Verrua, Via Stampatori 4 - 10122 Torino, Italy
2017, October 27 - 2018, January 8
Boris Lurie
Adieu Amérique
curated by Filippo Fossati
@ CAMERA - Centro Italiano per la Fotografia, VIa delle Rosine, 18 - Torino
2017, May 18
A talk in about around the garden
with by Jessica Carroll, Filippo Fossati and Consolata Siniscalco
@ Orto Botanico (Botanical Garden), Torino
2017, May
Jessica Carroll
Panchina Alveare (Beehive Bench), 2017
curated by Filippo Fossati
@ Orto Botanico (Botanical Garden), Torino